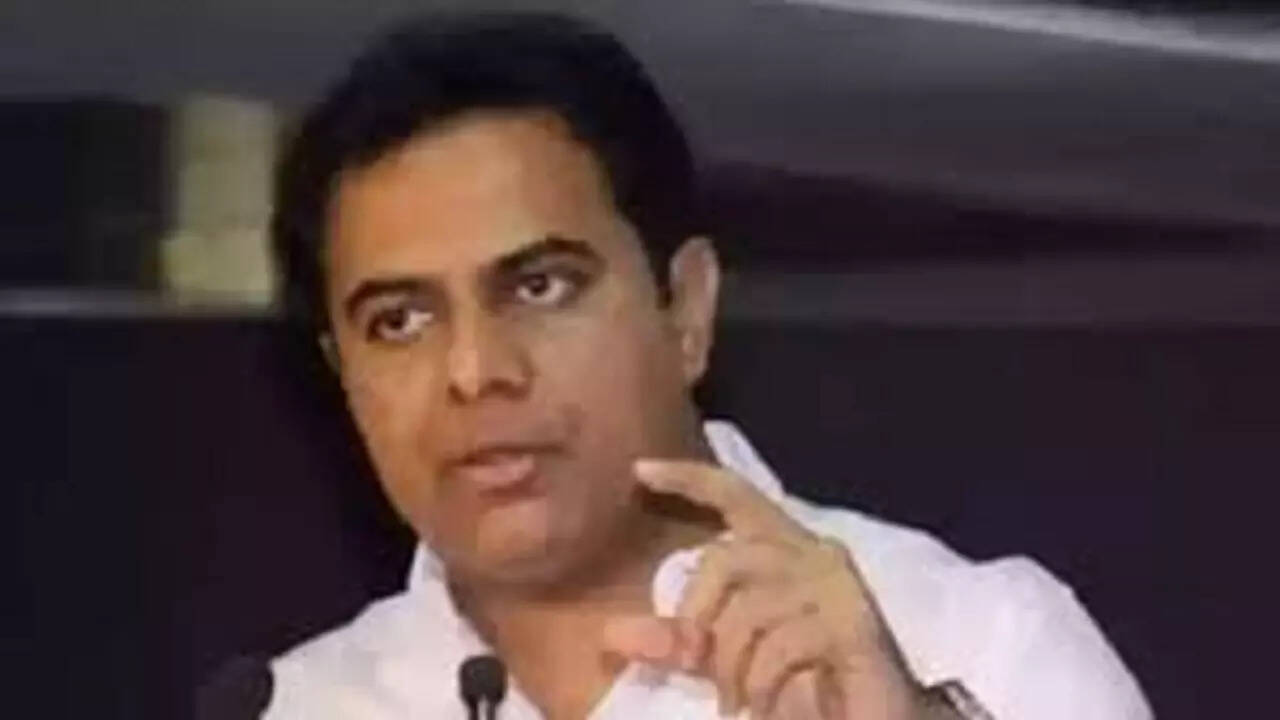 Amid a strong buzz that Congress will come to power, BRS working president KT Rama Rao exudes confidence of bagging 88-plus seats in November 30 polls. In a freewheeling interview with Koride Mahesh, KTR says people of Telangana treat CM KCR as their own family member and Telangana society, as such, will never defeat him. Excerpts from the interview:
Congress is emerging as a fomidable force when compared to 2018 elections.What is your assessment?
In the last six months, Congress may have gained a little in the state but they cannot beat us. I believe we have our own vote-bank. We have a solid leadership. We have grassroots workers who will make sure we will cross the victory line. To explain further, in democracy firstly, not everybody is going to be with you. Secondly, political realignment of pro-BRS and anti-BRS votes which was gravitating towards one section (BJP) about six months ago, is moving towards Congress. So, it's not as if some new section or somebody who's been with us is deserting us. In 2019 Lok Sabha elections, BJP got 37% of votes and in 2018, BRS got 47% of votes and 53% voters split against BRS. But, we got 88 seats in the previous elections. BJP is literally decimated in the state and its state president G Kishan Reddy, who represented an assembly constituency 3-4 times, does not even want to contest now.
But some surveys are also predicting a Congress win.
Same survey agencies in 2018 came out and claimed that Congress had already crossed the victory line and later, they were proved miserably wrong. Same agencies are predicting Congress would win again, so I think it's a good omen. We have done extremely well as a government.
Opposition parties are uniting against BRS. YSRTP and TTDP withdrew from the race. Will this impact your prospects?
'Simham single gane vastundi' (A lion always moves single in the jungle and not in a group). KCR has always preferred to fight elections alone and went solo. Even in 2014, after formation of the state, BRS contested alone and won 63 seats. Both TDP and BJP contested together. In 2018, we fought alone while Congress and TDP in the name of Mahakutami contested but failed to create any impact. We got 88 seats. This time, we are going to get more than 88 and form the government. We will perform better this time as KCR is treated as a family member or family head. I assure you, Telangana society will not lose KCR and not let him go.
There are talks Muslim voters and Andhra-origin voters, who supported BRS in previous elections, are not with the party.
This is absolutely wrong and cooked up rumours and social media campaign by some parties. Every section of Telangana enjoyed the benefits of welfare schemes and good governance in the past 10 years that include Dal- its, Muslim and Christian minorities. Therefore, there is no reason why a citizen of Telangana would not elect a government that has performed well irrespective of their affiliation to a particular party.
KCR, in one of his public meetings, said only regional parties are the best for the states over national parties. But don't you also aspire to be a national party?
No, what boss (KCR) meant actually was that any force, which is effectively rooted within a state, is more connected to the grassroots and aspirations of the people. People have a better connect with the party is what he meant. But, his intention isn't that BRS should be called a regional party.
What went wrong with Medigadda barrage?
Sinking of piers at Medigadda barrage was an engineering problem and not corruption as being alleged. Some opposition parties are jumping the gun and shouting from rooftops that this is corruption. These engineering issues crop up in major projects and even Prakasam, Dowleswaram barrages and the Tower of Pisa in Italy had also faced engineering problems. The state government took all the clearances from the Central Water Commission and respective directorates. The executing agency also said it would restore and repair the barrage without any burden on the exchequer or people. Whatever report that had come out of National Dam Safety Authority (NDSA), I would say it's not NDSA report, but a NDA government report.
What do you have to say about questions on
Kaleshwaram
's design and execution?
But, Kaleshwaram is not just Medigadda. It's a combination of barrages, reservoirs, pumphouses and canals. If Kaleshwaram is useless, as alleged by some people, how is it that paddy production has increased from 68 lakh metric tonnes to 3.5 crore MTs. Medigadda withstood massive floods last year and received 28 lakh cusecs of water. Kaleshwaram project is overall a drought-proof irrigation project. I am also asking when a bridge in Gujarat collapsed where about 130 people died, who took the moral responsibility, the PM, CM of Gujarat or any local minister?