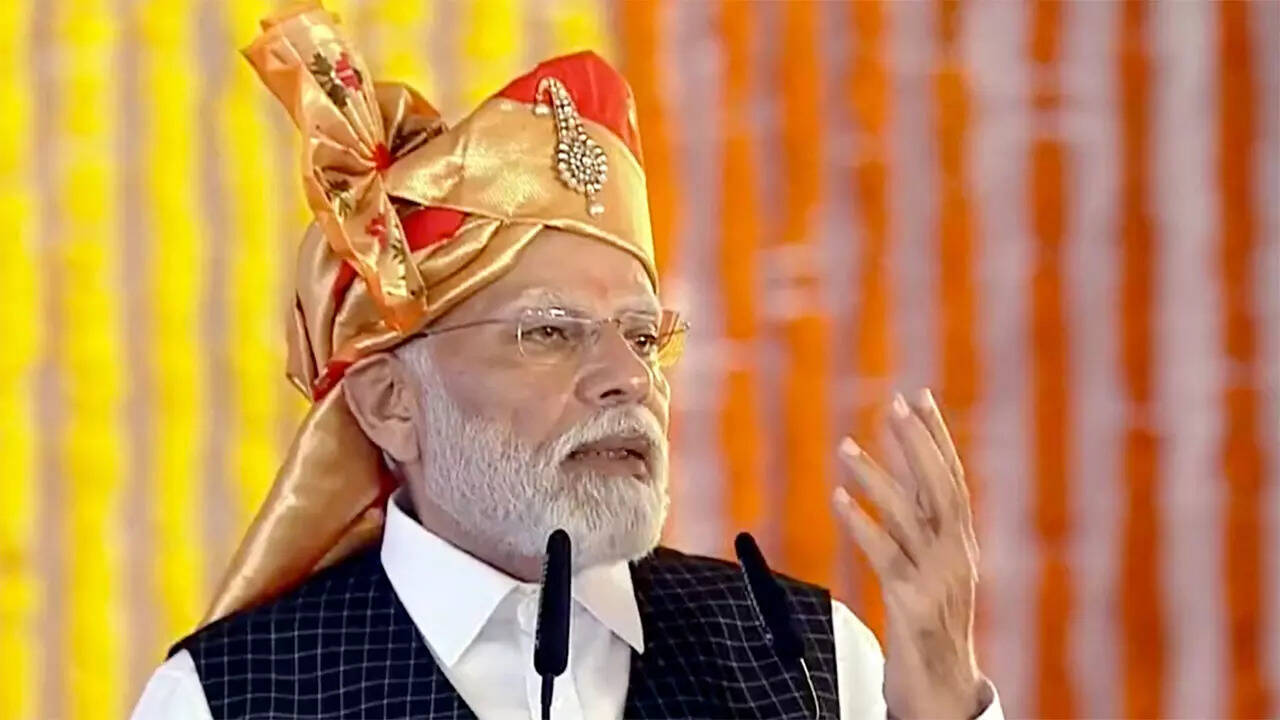 NEW DELHI: Prime Minister Narendra Modi on Thursday said that this year's sports budget is three times larger than the allocation made nine years ago and pointed out that India possesses an extensive pool of sporting talent and is ready to host the 2036 Olympic Games.
PM Modi's statement comes after India's recent success in the world of sports with the nation securing a record-breaking 107 medals at the Asian Games in China.
The PM said that the accomplishment will serve as a source of motivation for aspiring young athletes.
Speaking after inaugurating the 37th National Games at the Pandit Jawaharlal Nehru Stadium at Margao, Modi said the Games are taking place in Goa at a time when Indian sports is reaching new heights.
"We have brought in changes in schemes to provide financial incentives to sportspersons," he said.
There is no dearth of sporting talent in India, Modi said, adding the country has produced many sports champions. "The country has produced champions despite deprivation, yet poor performance in the medal tally always rankled people," he said.
Modi referred to several key measures taken by his government in the last 30 to 35 days, including passage of the Women's Reservation Bill, India successfully completing key test in Gaganyaan mission, launch of Namo Bharat trains of the Regional Rapid Transit System, and 'Operation Ajay' to facilitate the return of Indians trapped in Israel.
After 2014, the Centre has created required sports infrastructure, made selection process for competitions more transparent and introduced changes in financial schemes for athletes, he said. Modi said his government has worked towards removing roadblocks in progress of sports.
"The government has created a roadmap to take players to Olympics podium (winning medals). We can see the impact of it now," he said.
The Prime Minister alleged governments in the past were reluctant to allot adequate budget for sports. "We have increased the sports budget. The sports budget for this year (2023-24) is three times more compared to the allocation made nine years back," Modi asserted.
The PM said the Union government has created a new eco-system to take forward sporting activities in the country.
"Students from schools, colleges and universities are being identified and trained in different disciplines. The government is spending money on their diet and training," he said.
The Prime Minister said the country is achieving new heights in sports.
"We have seen it happening in the Asian Games, where the country smashed a 70-year-old record (in terms of medal tally)," he said.
"Even in the (ongoing) Asian Para Games, Indian players have won more than 70 medals and broken all previous records. Before that in the World University Games, India created history. These successes are motivation for all players who are here," Modi said.
The PM said the National Games are a "strong launch pad" for young sportspersons and asked athletes competing in the multi-disciplinary competition to break old records. Reiterating that India is ready to host the Olympics Games in 2036, Modi said the TOPS (Target Olympic Podium Scheme) initiative has been designed to provide best available training to athletes.
"India is ready to organize the Youth Olympics in 2030 and the Olympics in 2036. Our aspiration to organize the Olympics is not limited to just emotions. Rather, there are some solid reasons behind this," he stated.
He said 13 years from now India would be world's leading economic force. "Every India's gross income would be much more. We will have a huge middle class. India's tricolour would be fluttering from sports to space," the PM maintained.
"Under Khelo India initiative, 3,000 youths are trained from across the country. Such a huge talent pool is getting ready. They are given scholarship of Rs 6 lakh per year. As many as 125 players from Khelo India participated in the Asian Games," he said.
The PM said development of sports is directly related to economic growth.
"When there is negativity in the country, it also get reflected in performance in sporting arena. India's successful sports story is not different from the overall success story of India," he stated.
Stating that the youth is at the core of the country's development, Modi informed the gathering that a new platform named "Mera Yuva Bharat" will be launched on October 31.
The platform will connect youths from urban and rural areas with each other and also link them to the government, he said, adding "They will get an opportunity to take part in nation building."
"Our National Games is also a symbol of Ek Bharat, Shreshtha Bharat (One India, great India)," the PM emphasized, noting it is a great medium for every state to show its potential in sports.
Modi underlined that India is breaking new records and moving forward in every sector.
"It is hard to match India's speed and scale," he asserted. He lauded the preparations made by the Goa government and the people of the state for organizing the National Games. He said the sports infrastructure created here will be useful to the youth of Goa for many decades to come and the state will produce many new players for the country, while the infrastructure will be used for organizing national and international sports events in the future.
"In the last few years, modern infrastructure related to connectivity has been built in Goa. The National Games will greatly benefit Goa's tourism and economy," Modi added.
The Prime Minister said National Games celebrates India's exceptional sporting prowess and urged the participating athletes to give their best in every situation.
The National Games are being held in Goa from October 26 to November 9. More than 10,000 athletes from across the country are competing in over 43 sports disciplines across 28 venues.
Union Sports Minister Anurag Thakur, Goa Governor P S Sreedharan Pillai, Chief Minister Pramod Sawant, Union minister Shripad Naik and Indian Olympic Association (IOA) president P T Usha, among others, were present on the occasion.
(With inputs from PTI)
Watch
Will leave no stone unturned in our efforts to organize the 2036 Olympics: PM Modi