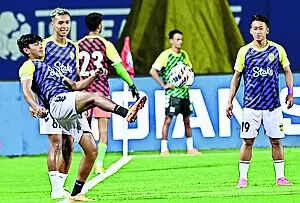 Hyderabad: After a disappointing start to their ISL campaign, former champions Hyderabad Football Club will play their first home game against Chennaiyin Football Club (HFC) at the GMC Balayogi Stadium here on Monday.
Action returns here after six months as HFC's opening clash against FC Goa was postponed last month.
While HFC suffered two losses, Chennaiyin suffered three consecutive losses. The likes of Rafael Crivellaro, Connor Shield, Ninthoinganba Meetei, Farukh Choudhary, Lazar Cirkovic and Yumkhaibam Joteshwor have all been impressive in stints while Jordan Murray is expected to be back in action for Chennaiyin.
HFC first team coach Conor Nestor is expecting a tough match against Chennaiyin. "They have been a little unlucky so far. They have created many chances in the three games. A little bit like us – lady luck hasn't shined on them yet," he said.
Hyderabad are also without a point, going into this game, after back to back losses in Kolkata and Jamshedpur. But with the home fans behind them, the Nawabs will look to get off the mark in the ISL points table on Monday. Hitesh Sharma remains the only goalscorer for HFC.
We also published the following articles recently
ISL: Jamshedpur FC aim for winning momentum in face-off against Punjab
Jamshedpur FC will aim to secure their second consecutive victory in the Indian Super League (ISL) when they face Punjab FC on Sunday. After a draw and a loss in their first two games, Jamshedpur bounced back with a hard-fought win against Hyderabad FC. With goalkeeper TP Rehenesh in good form, Jamshedpur will be looking to improve their attacking performance. Meanwhile, Punjab FC, who earned their first point in their previous match, will have a plan in place to face their challenging opponent.
UK's ruling Conservatives suffer second by-election loss
The UK's Conservative Party suffered two significant by-election defeats to Labour, signaling trouble for Prime Minister Rishi Sunak and his party's chances in the next general election. Labour managed to overturn large majorities in two traditionally safe Tory seats, reflecting voter frustration over the cost-of-living crisis and a series of scandals. These losses, combined with previous defeats and Labour's consistent lead in national polls, suggest a bleak outlook for the Conservatives. Sunak's recent policy shifts have failed to improve the party's standing, and expectations were already low for the by-elections.
Chicago Blackhawks gear up for Connor Bedard's home debut against Colorado Avalanche
Chicago Blackhawks fans are excited for Connor Bedard's home debut as he plays his fifth NHL game. Bedard has lived up to the hype so far, with one goal and two assists. The Blackhawks hope he can be the foundation for their rebuilding phase after their successful run from 2010-2015. The Colorado Avalanche, a strong contender for the title, have a promising core of young stars and are currently on a 14-game regular-season road winning streak. Alexandar Georgiev's exceptional goaltending has contributed to their strong start.