HYDERABAD: Less than two months after 10 students of Gandhi Medical College (GMC) were suspended for ragging a group of freshers, another such incident has been reported from the institute leading to the suspension of a third-year student – both from college and hostel for a year.
The incident came to light after some students complained to the principal about the high-handed behaviour of a senior. According to insiders, the senior had instructed freshers to address him as 'sir' at all times and show respect whenever he passed by.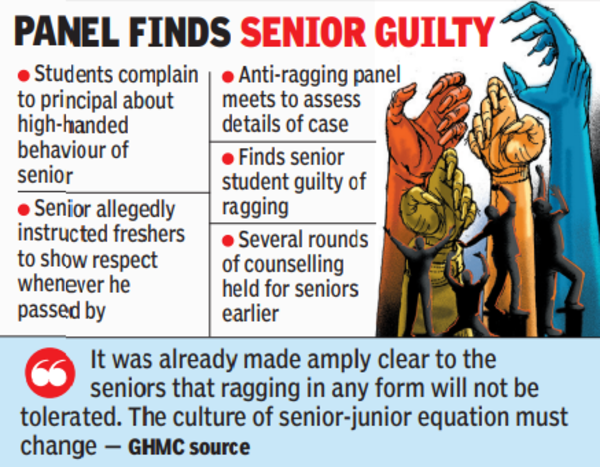 While college authorities confirmed the suspension, they refused to divulge further details about the case. They also admitted that unlike last time when the complaint was shot off to the University Grants Commission's anti-ragging committee, this time it was sent to the principal, Dr K Ramesh Reddy, who is also the director of medical education for Telangana.
Repeated attempts by TOI to reach him for comment did not yield any result.
Sources said the anti-ragging committee of GMC met on Thursday to assess the details of the case and found the senior student guilty of ragging. They also established that the incident occurred despite several rounds of counselling held for senior students and clear orders issued to abstain from ragging.
"The committee decided to suspend a third year student from the hostel as well as the college for a period of one year. It was already made amply clear to the seniors that ragging in any form will not be tolerated. The culture of senior-junior equation must change," said a source from GMC, adding, "The juniors had directly approached the college authorities due to several rounds of counselling and assurances given to them that ragging complaints will be taken seriously."
In September, 25 freshers faced ragging by a group of seniors, following which one of the juniors shot off a letter to the UGC. The letter was forwarded to the state authorities who subsequently suspended 10 students. This led to a few days of protest on college campuses but state health authorities decided to stick to the decision saying that even the slightest form of ragging is illegal and cannot be viewed differently.
Soon after that, Warangal police booked seven students of Kakatiya Medical College for allegedly ragging and beating up a second year student. They were booked under the Prohibition of Ragging Act, 1997.