Boasting 13% population in state, Muslims have the potential to tilt the scales in 45 seats out of the total 119 in the state in the crucial November 30 assembly elections.
The minorities, by and large, have supported BRS and its friendly ally, AIMIM, in 2014 and 2018 elections. However, after the Congress defeated the
BJP
in Karnataka with nearly 90% of the minorities voting en masse for the grand old party, political equations in Telangana have also changed. Congress wants to emulate the 'Karnataka model' in Telangana and if it is successful, will extend it at the national level in the 2024
Lok Sabha
election.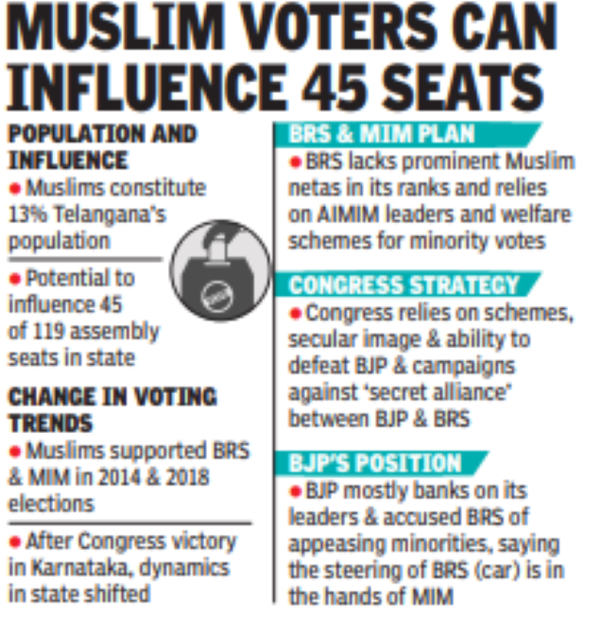 Shifting voter support
Muslims are now looking at the Congress as an option following reports that BRS has reached a 'secret understanding' with BJP. The aggressive campaign by the Congress leadership to inform the people in what it termed an 'unholy' alliance of BJPBRS has had its impact on the mindset of the minorities.
BRS does not have any prominent Muslim face in its ranks and is banking on AIMIM leaders, Asaduddin Owaisi and Akbaruddin Owaisi, along with the welfare schemes extended by the BRS for the minorities to get the minorities' votes in the ensuing polls.
Though Congress has former minister Mohammed Ali Shabbir in its ranks, he will be confined to his Kamareddy from where CM K Chandrasekhar Rao is fighting along with Gajwel seat.
Congress is banking on welfare schemes it is going to announce for Muslims in its minority declaration and its manifesto, secular image of the party and its capacity party to defeat the BJP in Karnataka despite the latter raising issues like hijab and halal, Muslim quota being withdrawn and 'Jai Bajrang Bali.'
Allegations & counters
While ministers KT Rama Rao and T Harish Rao have been telling the people to realise that Congress and BJP are two sides of the same coin, Congress leaders like TPCC chief A Revanth Reddy and Nalgonda MP N Uttam Kumar Reddy are leaving no opportunity to inform people how BRS, BJP and AIMIM have a secret alliance.
Asaduddin, on the other hand, blames that almost all the communal riots in city took place during the Congress governments and that not a single communal riot in the last nine years of BRS governance. He openly appeals to Muslims to vote for BRS wherever AIMIM is not contesting.
BJP has announced that they would remove the 4%reservation being given to Muslims and accused the BRS of appeasing the minorities, saying that the steering of the BRS is in the hands of Asaduddin's MIM.