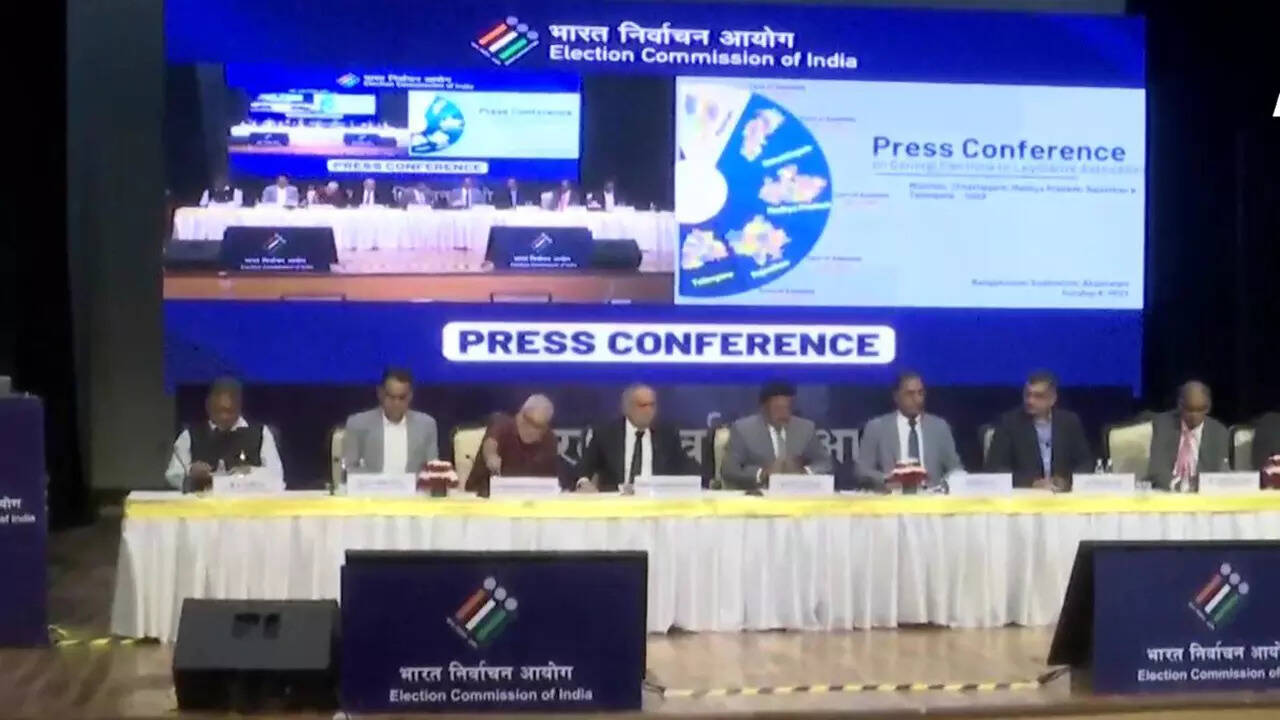 NEW DELHI: The stage is set for
assembly elections
in five states with the Election Commission announcing the dates for the electoral battle. Voting will happen between November 7 and November 30 while the counting of votes will be held on December 3. While Chhattisgarh will vote in two phases, the other four states will go to polls in one phase.
Also See:
Elections 2023 Live
The announcement of poll dates was made by Chief Election Commissioner Rajiv Kumar at a press conference here.The Model Code of Conduct has come into force with the announcement of poll dates.
Here is the schedule for elections to the five states of Madhya Pradesh, Chhattisgarh, Rajasthan, Telangana and Mizoram.
Mizoram
Voting on November 7
Results on December 3
Chhattisgarh
Voting on November 7 and November 17
Results on December 3
Madhya Pradesh
Voting on November 17
Results on December 3
Rajasthan
Voting on November 23
Results on December 3
Telangana
Voting on November 30
Results on December 3
'Will form government in all states'
BJP president J P Nadda welcomed the announcement of assembly poll dates and claimed his party will form government in all the states with a big majority under Prime Minister Narendra Modi's leadership.
"The BJP will form government in all states with a big majority under respected Prime Minister Narendra Modi's leadership and will work with commitment to fulfil people's aspirations in the next five years," he posted on X, soon after the EC's announcement of the poll schedule.
'Farewell of BJP announced'
Congress president Mallikarjun Kharge said that with the announcement of polls, the farewell of BJP and its allies has also been announced.
In a post on X (formerly Twitter), Kharge said, "With the announcement of elections in five states, the farewell of BJP and its allies has also been announced."
He said, "In Chhattisgarh, Madhya Pradesh, Rajasthan, Telangana and Mizoram, the Congress party will go to the people with strength. Public welfare, social justice and progressive development are the guarantees of the Congress Party."
(With inputs from agencies)