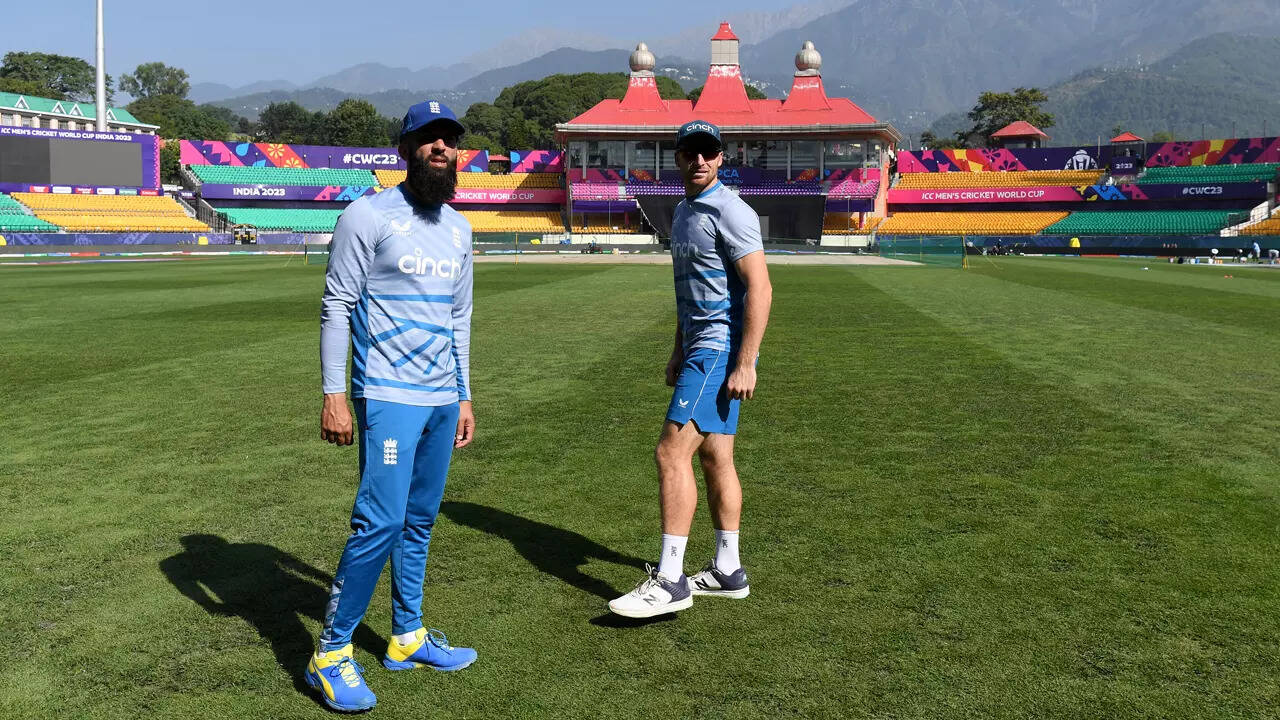 NEW DELHI: England's star all-rounder Ben Stokes is expected to miss the upcoming match against
Bangladesh
in the ICC Men's Cricket World Cup. However, England's captain,
Jos Buttler
, is expressing greater concern about the condition of the outfield in Dharamsala, which he believes is suboptimal for
World Cup
matches.
Former England batsman and current Afghanistan head coach,
Jonathan Trott
, raised questions about the outfield's condition after spinner Mujeeb Ur Rahmannarrowly avoided injury when his knee jammed into the sandy surface.Despite theInternational Cricket Council (ICC) granting the outfield an "average" rating, permitting it to host World Cup matches, concerns regarding player safety while fielding persist.
Jos Buttler, addressing reporters on Monday in anticipation of the match against Bangladesh, voiced his reservations about the outfield, stating, "It's poor in my own opinion. Any time you're talking about being careful diving or sort of being careful when you're fielding, it goes against everything you want to be as a team. So that's obviously not ideal, the way the surface is, the outfield. But we won't use it as an excuse, we'll adapt to it."
However, Buttler emphasised that the team would not use the outfield conditions as an excuse and would adapt to the situation. England, the defending champions, are looking to recover from their comprehensive nine-wicket loss to New Zealand in the tournament's opening match in Ahmedabad.
The concerns over an unsafe outfield compound the challenges faced by a team already worried about the fitness of Ben Stokes, who missed the first match due to a minor hip issue. Buttler acknowledged that players ideally want to give their all in the field without concerns about safety and added, "You want to put your body on the line and be trying to save every single run or have confidence in the field. So, it's not as good as it could be or should be, but it's going to be the same for both teams, and the wicket looks fantastic."
ICC World Cup 2023: New Zealand beat England in opening match by 9 wickets, take sweet revenge of loss in 2019 final
Regarding the team's underwhelming start to their title defence, Buttler was candid, saying, "We know we didn't play as well as we can in the last game and you're always desperate to put that right, both individually and as a team. So, there's plenty of hunger in the group, and we're excited to get back on the field."
England's match against Afghanistan on October 15 in New Delhi appears to be a more realistic target for Ben Stokes to return to action. Buttler noted that Stokes has been back in the nets and working toward full fitness, but it is unlikely he will be available for the upcoming match against Bangladesh.
(With inputs from Reuters)