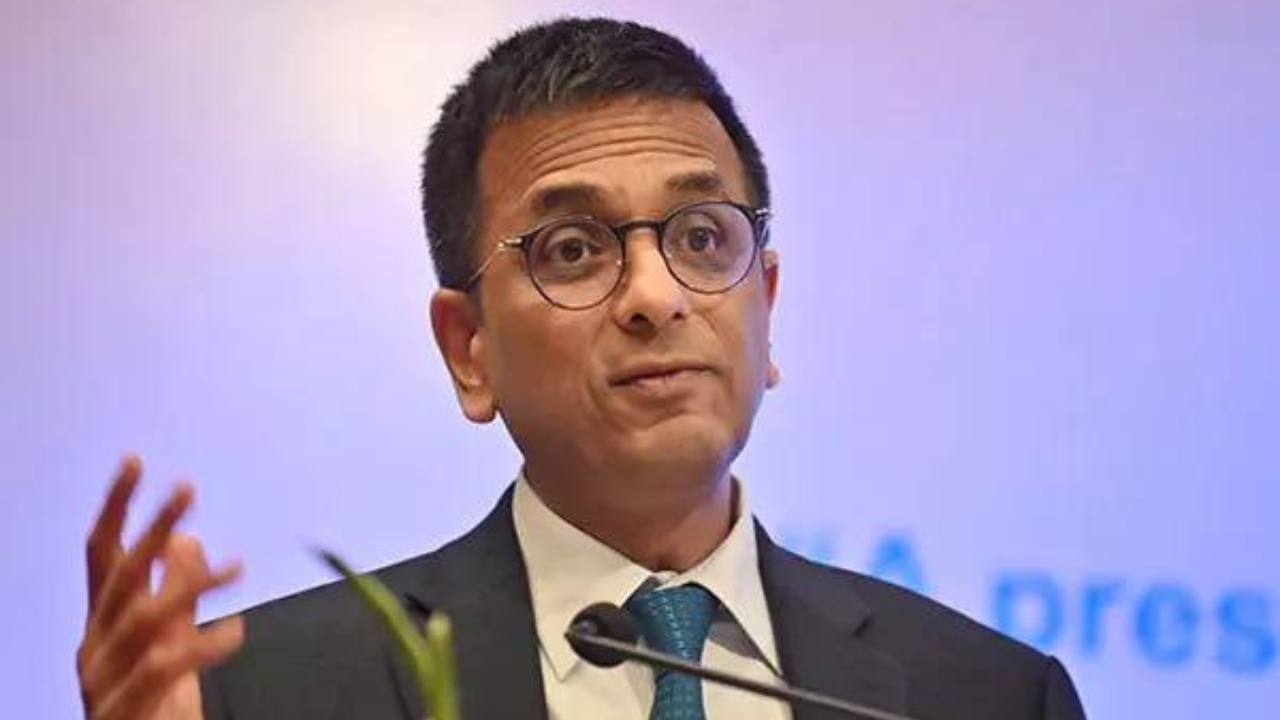 NEW DELHI:"If you want to become a judge in the courts, you have to be technology friendly," said Chief Justice D Y Chandrachud while reading the riot act to all the 25 high courts to collaborate with states to put in place the virtual mode of hearing cases in two weeks for the benefit of lawyers and litigants.
Identifying Allahabad HC as "the complete offender" and Bombay HC as "regressive" in their approach towards marrying judicial functioning with technology, a bench of CJI Chandrachud, and Justices J B Pardiwala and Manoj Misra asked, "Why the high court judges are so reticent about using technology when the SC judges have voluntarily taken lessons in use of technology to conduct court proceedings on paperless e-platforms?"
CJI Chandrachud, whose initiatives have virtually ushered in a revolution in use of technology in the conservative and traditional justice dispensation system in the SC, took exception to many HCs dismantling the investment intensive infrastructure for virtual hearing set up to provide access to justice to litigants and lawyers during the dark phases of Covid pandemic.He said "The question no longer is whether a judge is technology friendly. Technology is no longer a matter of choice and all judges must realise this. It is part of the system like law books. It is like a driving licence required for driving a car."
He said the parliamentary committee comprising MPs were very receptive to the SC's proposals on e-Courts and the government has released Rs 7,000 crore for it. "The MPs are expressing concern that the virtual hearing infrastructure, which was put up in every HC at huge cost, is being disbanded. We must understand that a huge public fund had gone into it," the CJI said.
Referring with considerable anguish to the state of affairs relating to hybrid system of hearing in Bombay HC, CJI Chandrachud said, "It distresses me no end that my parent HC has disbanded the infrastructure. Except the courtroom of Justice Gautam Patel, the infrastructure is put to disuse in all other courtrooms. In a city like Mumbai, which faces perennial traffic problems and travelling is so difficult, why not have a hybrid system of hearing?"
"Why would the HC in a premier financial centre be so averse to technology? The Bombay High Court must give a signal to all other HCs that it is in sync with the march of technology and not project to the country that they will function as they did 150 years ago," the CJI said.
Justice Chandrachud also cited an instance of a young lawyer being asked not to use an iPad in a Bombay HC courtroom. "We must make our courtrooms more accessible through use of technology and by providing internet access to litigants and lawyers within the building premises."
Maharashtra advocate general Birendra Saraf agreed with the CJI and said, "We need to do that. We can only convey it to the HC chief justice. On behalf of the state government, I can say that it is ready to provide all assistance to the Bombay HC for setting up hybrid hearing infrastructure in every courtroom." However, he said that the HC being a heritage building faces wireless signal problems.
The CJI disagreed and said, "When I was a judge there was no air-conditioning and the same ruse of heritage building was given. It could be done with some imaginative steps. I am sure the state AG and the HC in consultation and collaboration can make the wifi facilities available in the entire building."
Prior to Bombay HC, the SC bench had slammed the Allahabad HC as "the complete offender" in disbanding the infrastructure put up to facilitate virtual hearing. "The infrastructure is shut down. When the chief justice does not take interest, this happens."
But senior advocate Nidhesh Gupta, appearing for Punjab and Haryana HC, rescued the HC from further admonition by explaining the huge difference in technological infrastructure requirement for virtual hearing and hybrid hearing. The CJI-led bench appointed advocates Gaurav Agrawal and K Parameshwar as amicus curiae to coordinate with HCs for implementation of its order for making functional hybrid system of hearing in two weeks. The bench also requested Delhi HC judge Rajiv Shakdher to prepare a model standard operating procedure for hybrid hearing in the HCs.
Court live hearings are better than Netflix: CJI Chandrachud quotes his friend