Though multiple teams competing at the
World Cup
go in as potential title contenders, there's no doubt that the one team which can be called the 'boss' of the tournament is Australia.
From their first title win in 1987, under Allan Border's captaincy to their last title hurrah under Michael Clarke in 2015, the men in yellow have won as many as 5 ODI World Cuptitles in 12 completed editions and are hands down the most successful team in the history of the tournament.The next on the list of most titles are the West Indies and India, with two titles each.
Ahead of the next edition of what is the biggest prize in ODI cricket, the TOI Sports Desk here takes a statistical look at the Aussies and their incredible love affair with the ODI World Cup, via team and individual records:
# The success % of 74.73 enjoyed by Australia is the best by any team in the World Cup overall, winning 69 and losing 23 out of 94 contested (Tied – 1 & No Result – 1).
# Australia have won 25 matches in succession between June 20, 1999 and February 25, 2011 – a World Cup record.
# Australia had played 34 matches in succession without losing between May 27, 1999 & March 16, 2011 – a World Cup record.
Virat Kohli and Shubman Gill can make strong impressions in World Cup: Anjum Chopra
# Mitchell Starc had bagged 27 wickets at 18.59 runs apiece, including two five-wicket and two four-wicket hauls, in ten matches in the 2019 World Cup – a record by a bowler in a World Cup competition, bettering the 26 (ave. 13.73) in eleven matches by Glenn McGrath in 2006-07.
# Starc and McGrath provide the only two instances of bowlers taking 25-plus wickets in a World Cup competition.
# Adam Gilchrist remains the only Australian batter to be dismissed in the nervous ninety nines at the World Cup, earning the dubious distinction vs Sri Lanka at Centurion on March 7, 2003. He was the first to register this unwanted record in the World Cup.
# Adam Gilchrist remains the only batter to post three successive fifty-plus innings in the World Cup Finals – 54 off 36 balls vs Pakistan at Lord's on June 20, 1999; 57 off 48 balls vs India at Johannesburg on March 23, 2003 and 149 off 104 balls vs Sri Lanka at Bridgetown on April 28, 2007.
# With 375 runs (ave.62.50) at a strike rate of 104.16, including three fifties, and 20 dismissals (18 ct + 2 st) in ten matches, Alex Carey is the first and only wicketkeeper to manage 300 plus runs at 50-plus average and at a strike rate of 100-plus apart from effecting 20 dismissals in a World Cup edition.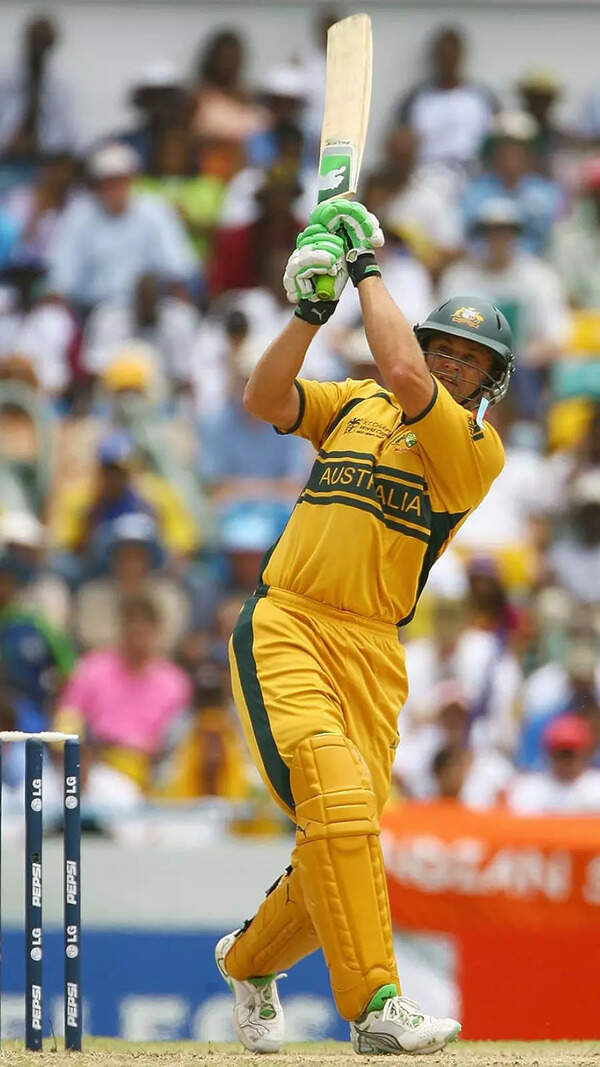 # In the 2002-03 World Cup edition, Adam Gilchrist had amassed 408 runs at an average of 40.80, including four fifties, in ten innings at a strike rate of 105.42 apart from effecting 21 dismissals (all caught).
# Brett Lee is the only Australian bowler to produce a hat-trick in the World Cup, accomplishing the feat against Kenya at Kingsmead, Durban on March 15, 2003 – his victims being Kennedy Otieno, Brijal Patel & David Obuya.
# Adam Gilchrist was the first wicketkeeper to effect six dismissals (six catches) in a World Cup match – vs Namibia at Potchefstroom on February 27, 2003. Just one other wicketkeeper emulated the feat – Pakistan's Sarfaraz Ahmed vs South Africa at Auckland on March 7, 2015.
# With four successive fifty-plus innings in the WC knock-out matches, Steven Smith had become the first batsman to accomplish the feat at the World Cup – 65 in the QF vs Pakistan at Adelaide on March 20, 2015; 105 in the SF vs India at Sydney on March 26, 2015; 56 not out in the final vs New Zealand at Melbourne on March 29, 2015 and 85 in the SF vs England at Birmingham on July 11, 2019.
The word pressure is not in Virat Kohli's dictionary: Mohammad Amir
# Aggregate of 714 in the match involving Australia (381/5) and Bangladesh (333/8) at Trent Bridge, Nottingham on June 20, 2019 is a World Cup record, obliterating the 688 for 18 wickets between Australia and Sri Lanka at Sydney on March 8, 2015.
# David Warner remains the only batter to post two innings of 150-plus in the World Cup -178 vs Afghanistan at Perth on March 4, 2015 and 166 vs Bangladesh at Nottingham on June 20, 2019.
Stats Courtesy: Rajesh Kumar