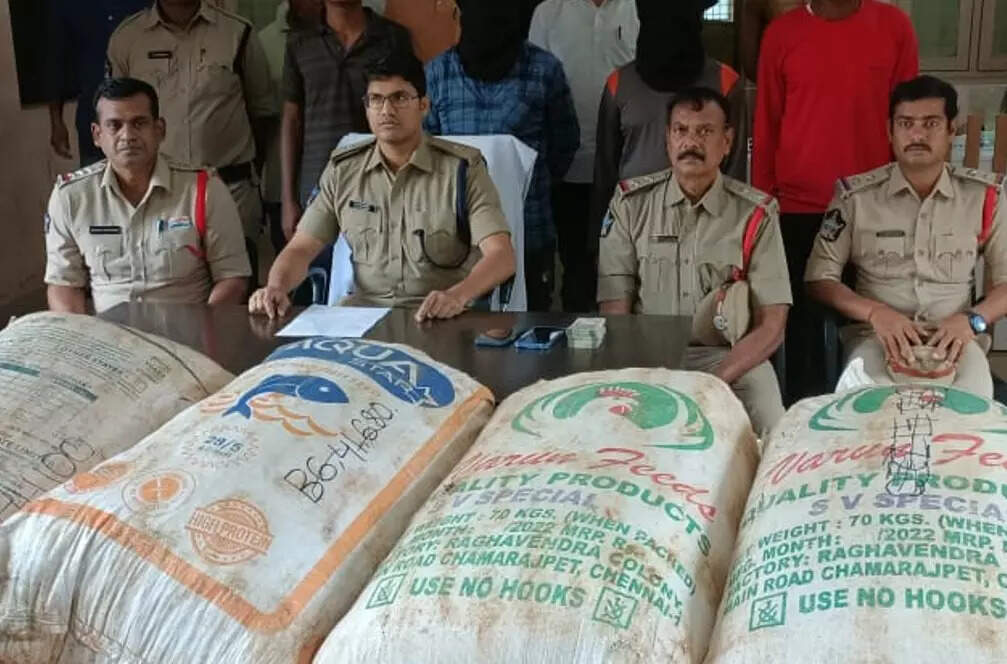 VISAKHAPATNAM: The Annavaram police in Andhra Pradesh cracked a major Narcotic Drugs and Psychotropic Substances (NDPS) case, by arresting two men and seized 1,400kg of ganja kept in 34 gunny bags.
The police also sized a four-wheeler, mobile phones, and Rs 1 lakh in cash from their possession.
Assam Police seizes 24 kg of Ganja, arrests 3 people
The estimated value of the confiscated ganja is approximately Rs 3 crore.
Acting on a tip regarding ganja transportation near the Lothugedda Bridge to Korukonda, the police conducted vehicle checks on Tuesday afternoon. Upon noticing the police presence, two unidentified individuals acting as pilots on a motorbike fled the scene.
Subsequently, a Bolero vehicle arrived at the location, and its driver attempted to escape but lost control, causing the vehicle to overturn at a causeway. Two suspects were apprehended from the overturned vehicle, identified as Sinderi Chinnayya from Rallagedda in Balapam panchayat and Kuda Prasad from Bhimasingi village in Kottapalem panchayat, both in the Chintapalli mandal of Alluri district.
Upon investigation, it was revealed that Sinderi Chinnayya had acted as an intermediary to purchase the contraband from Killo Sathibabu of Dagudupalli Village in Chitrakonda Block, Malkangiri District, Odisha. The ganja weighing 1,400kg was acquired at the rate of Rs 2000/kg on the previous day. Kuda Prasad was responsible for driving the vehicle carrying the contraband, which was loaded in Cheruvuru, a border village in Odisha.