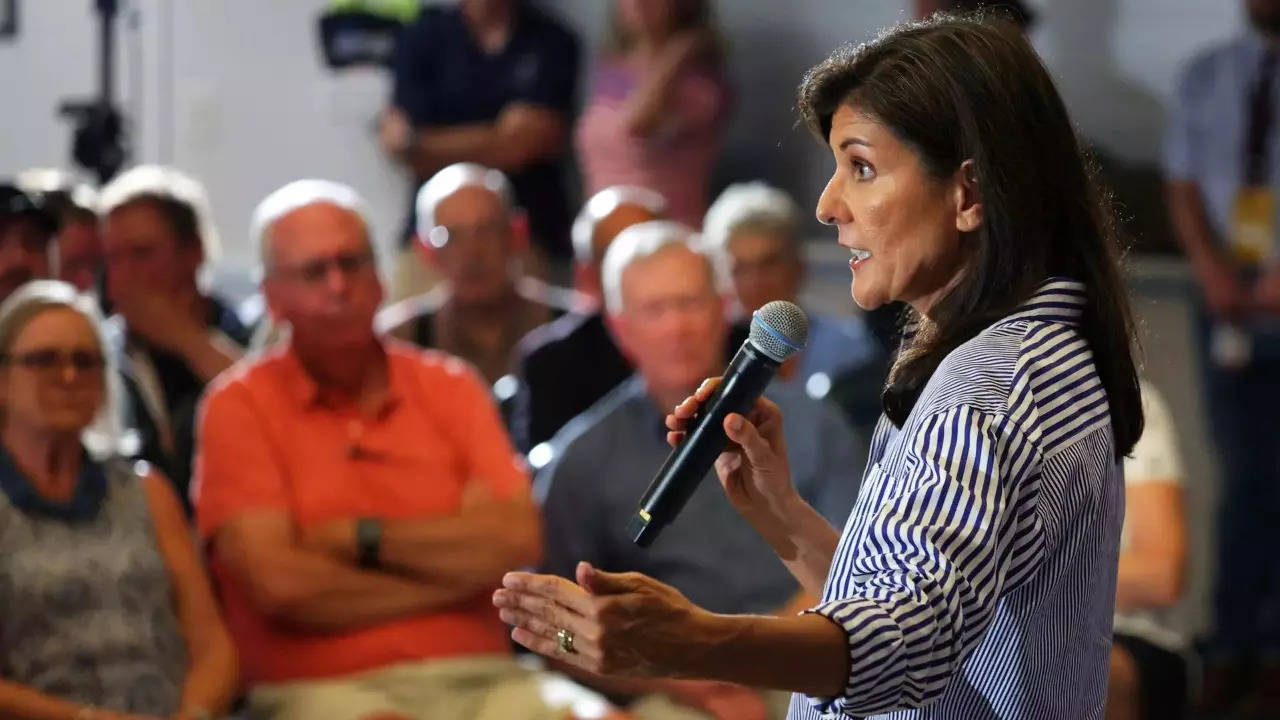 Both Indian-American candidates – Vivek Ramaswamy and
Nikki Haley
– have seen their campaigns gaining momentum after the first Republican presidential debate in
Milwaukee
. However, they still have a lot of distance to cover to catch up with
Donald Trump
. According to opinion polls, the former US President is maintaining his comfortable lead among all contenders, followed by Florida governor. Ramaswamy and Haley are occupying third position in different polls.
However, since the first debate, Ramaswamy, at times, has hinted that he is open to running as a vice-presidential candidate under Trump's leadership. However, Haley, who served as a US ambassador to the UN under the Trump administration, is continuing to attack Ramaswamy and other contenders.
According to a report in Axios, Nikki Haley's campaign manager, Betsy Ankney, has characterized Vivek Ramaswamy and Florida governor Ron DeSantis as "imitating Trump" in a recent memo to donors, derisively referring to them as "Trump-lite." Ankney pointed out that both Ramaswamy and DeSantis appear to be excessively emulating Trump's approach in their strategies. She specifically highlighted DeSantis's comments regarding the Russia-Ukraine conflict and suggested that Ramaswamy's entire approach seems to be based on mimicking Trump.
In contrast, Ankney emphasized that Haley is forging her own unique path, noting her recent speech at AEI where she criticized President Trump for lacking moral clarity on China. Additionally, Ankney highlighted Haley's direct criticisms of both Trump and Democrats concerning the growing national debt, the report said.
Nikki Haley's campaign manager labeled Vivek Ramaswamy and Florida Gov. Ron DeSantis "Trump-lite" in a new memo to donors Tuesday night, mocking them for falling "all over themselves to copy Trump on everything," Axios has learned.
"From DeSantis's 'territorial dispute' [on the Russia-Ukraine war] comments to, well, everything about Ramaswamy, both seem to think copying Trump is the path to success,' ' Haley campaign manager Betsy Ankney wrote in the memo.
Ankney argued that Haley was "blazing her own path" and highlighted that "in a recent speech at AEI, she criticized President Trump for lacking moral clarity on China."
She also noted Haley's pointed criticism of Trump and Democrats for the growing national debt. "Some run as 'Trump-lite,' while others throw rocks at Trump to win points in the media. All are wrong, all will fail, and all show a lack of leadership," she argued.
According to Axios, Haley is pitching herself to the GOP establishment and donors as the main alternative to Trump.